Brewer's Blog
News and tips from Altitude and the brewing community!
Listen to Jared on the radio. He got invited to be a guest on a radio show out of oregon run by Ginger Johnson who runs the organization "women enjoying beer". Check it out here:
Altitude Chophouse and Brewery is keeping the pub in public radio. You've heard Open Spaces the show; now try Open Spaces the beer! In early September, Head Brewer Jared Long invited Wyoming Public Radio staff to help make this special beer atAltitude Chophouse and Brewery in Laramie. Listen in as we experience the art of brewing and experience one of our state's treasures: the local brewery, with Jared as our guide. 
Check out the video: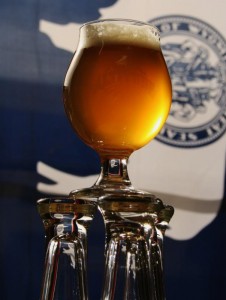 Hi beer fans,
Two new releases come online today at altitude.
"Ocelot" is our latest IPA. it's quite similar to "Lynx", although the hops are bit more expressive. "Ocelot" smells and tastes like a tangerine that's 6.8% ABV.
secondly….
"KDH Weizen". i look forward to two things after spring break: the masters golf tournament and warmer weather. unfortunately, only the latter is predictable in its arrival. "KDH Weizen" is a perfect accompaniment to the season, even if it's not as warm as we'd like outside yet. German-style hefeweizen with the signature aroma/flavor of vanilla, clove and banana coupled with the distinctive texture and slight tartness of a german wheat beer. Extremely low hops; 5.1% ABV; easy drinking.
Hope to see you soon.
—————-
Jared Long
Head Brewer
Altitude Chophouse and Brewery
Hi everyone,
We have two new pilot beers on tap and a few 22 oz bottles for sale at Altitude.
On tap, we have:
– "Vladimir Porter" is a Baltic Porter and at 7.2% ABV, could probably hold up to shipping across the North Sea (if needed).  It's really chocolaty and roast-y.
– "Looking Glass" is an American Strong Ale.  It has a very rich, malty sweetness that is balanced by firm bitterness and hop flavor/aroma.  It's 8.8% ABV so drink it responsibly.
Last weekend we bottled our entries for the World Beer Cup and we have an extra case of "I Want You In the Morning", our espresso and vanilla porter for sale.  This beer is 7.2% ABV and sold in 22 oz bottles.  This is our third time brewing this beer and I think it's getting better each edition.  
Have a great week!
-nick
Friends of altitude,
A new beer is on tap today at altitude.
"Temptress" (6.6% ABV) is a belgian style blond beer that leans heavily on hop aroma and flavor.  the beer has a cloudy appearance from this unique strain of belgian yeast that is quite fruity in flavor.
Happy friday,
jared
—
Jared Long
Head Brewer
Altitude Chophouse and Brewery
Greetings.
(is it strange that it's 8 am and i'm thinking about beer?)  such is the life of a school teacher/brewer i suppose.
I write bearing good news:  we're releasing a new beer today.
"Lynx the IPA" (6.5% abv) goes on tap today, signaling the beginning of IPA-always-on-tap.
Each IPA in this series will be named after a cat, beginning with Lynx.  As each cat in this series is slightly different, so too will be the hop profile in each.  Rest assured each will be appropriately hoppy. 
IPA is best consumed fresh, so i'd highly suggest coming to get some at its freshest (that would be today).
See you at the tude,
— 
Jared Long
Head Brewer
Altitude Chophouse and Brewery
Happy friday!
I'm about to make your great day even greater. Two new beers go on tap today at happy hour (one big batch, one pilot).
Big System:
"Humboldt County". west coast red ale (hoppy), 6.4% abv. i made this beer to pay tribute to my californian upbringing. a nice malty body backs up the healthy dose of american hops that went into the kettle late. hop flavors range from resin-like and woodsy to life savers candy and citrus. if 'winter IPA' were a style, this would fit nicely.
Pilot:
"Brothers from Another Mother" – belgian blond beer showcasing the awesome american hop that is amarillo. 6.9% ABV.
in other news…
We'll have an American IPA going on tap in the next week or so; i plan on having one on tap permanently from here forward. more details shortly…
Thanks; see you at altitude.
Jared Long
Head Brewer
Altitude Chophouse and Brewery
Hi everyone,
We have two relatively new pilot beers on tap today at Altitude.
The first is a West Coast Red Ale (6.5% ABV); dry hopping during secondary fermentation gives this beer a sweet aroma and the flavor is akin to cotton candy (but maybe that's just may palate).  
The second is "Sorachi Ace"; a traditional Belgian-style saison brewed with a hop variety from Japan.  These Japanese hops finish a bit lemony, which makes for a really refreshing saison.
Also, there a few bottles left of our Winter Saison and I Want You In The Morning (a coffee brown) available for sale.  These were the beers we brought to the Big Beers, Belgians, & Barleywines festival in Vail earlier this month.
Hope to see you around the brewpub soon,
Nick
Altitude Pilot Brewer
As most of you have likely heard by now, our long-time Head Brewer (Nathan Venner) has accepted a position as the new Head Brewer at Lander Brewing Company.  It is with mixed emotion that I accept this news. Nathan's contributions to Altitude are substantial and I look forward to seeing the changes that Nathan will bring to Lander Brewing Company.
The obvious upside for me is that I will be taking over Nathan's position as the Head Brewer at Altitude; this is an opportunity I've been working toward for quite some time. I view my role, largely, as continuing our tradition of making excellent craft beer that appeals to a wide range of palates.  Having said that, I also believe that the beer being poured at any brewery should be a reflection of the Head Brewer.  To that end, I thought I would outline some of my guiding philosophies/likes that will be showing up at Altitude in the months ahead.
1.    I believe that – regardless of style – beer should be full of flavor.  While I have preferences for certain styles over others, any beer that I make is guided by this principle.  As a brewer, I achieve this by obsessing over details and dissecting my recipes.  There are so many ways to create flavor in beer, but at minimum, it requires excellent procedure, knowledge of the brewing process and ingredients and use of the best ingredients possible.
2.    Styles are a useful reference point, but they are open to interpretation.  I think it's really important to have an understanding and appreciation for beer styles.  By affixing a particular style to a beer, you are referencing long-standing brewing traditions and creating certain expectations for the consumer.  For example, a German Pilsner should use lager yeast, be light in color, with a firm bitterness and showcase the bready qualities of high quality pilsner malt.  But can a German Pilsner be dry-hopped?  Well, traditionally it would not be, but I believe that in so doing you further the conversation into what that style can be.  
3.      If you don't enjoy a particular beer, that does not deem it "bad". Like most people who enjoy beer, I have an affinity for certain styles and am less enthusiastic about others.  I also acknowledge that there is an enormously wide range of tastes out there and that part of my job as a brewer is to please a diverse range of beer drinkers.  I do so by emphasizing different qualities in different beers.  Some of my beers are driven by particular yeast flavors; in others, I want as neutral yeast quality as possible.  Other beers I make are highly bitter while others have just enough bitterness to complement the sweetness of malt.  When I pour a beer for someone, I encourage them to describe flavors and refrain from deeming it "good" or "bad".  It's inevitable that you will have an affinity for certain flavor profiles, but there are so many flavors out there that you owe it to yourself as a beer drinker to revel in the diverse beers that brewers are creating in their products.
At the risk of becoming pedantic, I'll close for now.  I really do enjoy educating people about beer and getting feedback, so please: feel free to tell me what you think.  I might not agree with you, but that's part of the fun.
'ok,
Jared
Head Brewer, Altitude Chophouse and Brewery
Hi crew,
Got a really nice pilot beer going on tap tomorrow during happy hour.
"Lellebel" is a simple beer in terms of recipe, but pretty complex in terms of flavor.  "Lellebel" is a belgian tripel made with one malt and one hop.  This beer has a nice light biscuit-like flavor from pilsner malt and is loaded with tropical fruit flavor; it will aid in keeping you warm on a cold winter's eve (9.1% abv).
Come down for a glass and let me know what you think.
Stay warm,
jared
head brewer