Brewer's Blog
News and tips from Altitude and the brewing community!
Hi all,
A couple of new releases to tell you about (one happens today, the other happens on friday).
First, a release on the big system:
"Kater 6″, 7.4% abv (releases today)
Belgian golden strong ale finished with simcoe and nelson sauvin hops.  Light-bodied, but high in alcohol.  I get a lot of tropical fruit flavor/aroma out of this which is followed by a warming alcohol presence.
And a pilot release (which i've been looking forward to for quite some time):
"Because I Got Chai", 6.4% ABV
Imperial brown ale with lactose and chai, designed to resemble a chai latte.  My description can't do this beer justice, so you'll just have to come try it.  When i was putting this beer together i knew we'd either have a hit or a flop; i'm pretty sure you'll concur that this was an idea that needed to happen.
Thanks! See you soon,
jared
head brewer
Greetings.
Hoppy beer is best consumed fresh.  to this end, i am releasing a new beer today.
"My Second Rodeo" is a true session beer (3.2% ABV) hopped with an absurd amount of gifts from the southern hemisphere (new zealand).  despite the low alcohol content (intentional), it's an incredibly full-flavored beer that you can have several of and still function well enough to…well, barrel race or calf rope.
On tap at 4 pm.  come get some. $3.50/12 oz.
jare
"pilot"
Hi all,
Two new pilots go on tap tomorrow (friday), during happy hour:
1) DJ Jazzy Hefe – weizenbock with cocoa nibs and assorted spices (5.5%)  (brewed by nathan)
2) Fresh Prince of Altitude – belgian style abbey ale (8.4%) (brewed by jared)
Come try,
jared
"pilot"
Beer fans:
I've been getting a lot of questions about some recent beers to come out of the pilot system, particularly "The Pumpkin Pilot" and "I want you in the morning".  Most of those questions revolve around the use of specialty ingredients, so I thought I'd talk a little bit about my process when going beyond malt, hops, water and yeast in a beer.
First and foremost, using specialty ingredients is trial and error.  A lot of the specialties I've released at altitude are the most recent manifestations of brewing experiments I've been doing out of my home brewery over the past 7 years or so.  That's not to say I won't ever try something for the first time ever on our pilot system – after all, that's kind of what it's for – but most of these concepts are ones I've been tweaking for quite some time.
Coffee is a great example of a specialty ingredient that requires a lot of thought before using in a beer.  For example, what kind of roast is best?  When is it best to add the coffee (in the boil kettle? Primary fermentation?  Secondary fermentation?  At packaging?) In what form should the coffee be added (Whole bean? Cold brewed?  Coffee grinds?) And how much is appropriate?
I don't think there are many – if any – hard and fast rules when it comes to brewing.  If there's one thing the current explosion of craft brewing has taught me, it's that there is an inconceivable amount of processes/techniques/approaches that result in outstanding finished products.  So, to say, "if you want to make a coffee beer, you should do it this way…" is an absurd statement.  There's no question that I have a good amount of principles/approaches that I keep consistent when I brew, but that's certainly not to say that my approaches are "the right way" or "only way". 
For me, the most useful way of thinking about any beer I make – particularly one involving a specialty ingredient – is to work backward.  I imagine – as specifically as possible – exactly what I want the beer to look, smell, and taste like and start plotting a course of action from there.  I love balance in beer, but that becomes tricky in the context of specialty ingredients.  To me, if you're going to list a specialty ingredient in a beer, you should be able to taste it – you shouldn't have to go looking for it.  This type of thinking is exemplified in "I want you in the morning".  The most significant specialty flavor I wanted in there was coffee; anyone who has tried this beer can attest to the fact that the coffee is very much up front.  But it's also balanced.  The coffee – at least in my opinion – does not overwhelm, but is well supported by the rest of the ingredients in this beer. 
Upcoming releases:
1)     Fresh Prince of Altitude (Belgian abbey ale)
2)     Chai-a Ganesha (chai beer)
3)     My Second Rodeo (3.2% session ale)
4)     Cerveza De Los Muertos (porter with roasted chili peppers)
Hi beer fans,
Two new awesome pilot beers will go on tap this friday (happy hour):
1) "The Pumpkin Pilot" – belgian pumpkin beer with Laramie-grown pumpkins (UW ACRES farm) and pumpkin pie spices.  7.9% ABV.
2) "I Want You in the Morning" – Strong breakfast beer with espresso, brown sugar, oats and vanilla.  8.0% ABV.
See you at altitude,
jared
"pilot"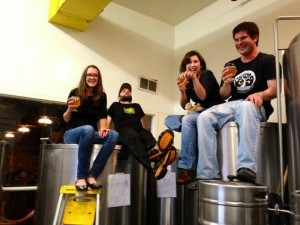 Hi all,
A couple of updates:
1) vanilla porter will be tapped today around 5 pm.
2) my to-be-named pumpkin beer will go on tap next friday
3) "i want you in the morning" will also go on tap late next week
4) in the coming weeks we will have a new batch of bottles ready for sale.  we're still working out some logistics, but it looks as if you will be able to take one home with you (and will not be required to consume it at altitude).  the first release will be "mary's sister" – very similar to mary magdalene.
Thanks,
Jared
"pilot"
Greetings.
A new pilot beer will be tapped this coming thursday at happy hour.
"Meeting of the minds volume 2: oberon" is a belgian blond session ale (5.0% abv) dry hopped with citra and amarillo hops.  i worked with jordan wambeke on this beer – a member of the laramie homebrew club – who won our in-house competition for session ale.
This beer is immensely drinkable and full of flavor; i highly recommend coming in and giving it a try.
ok,
jared
head pilot brewer
Hi all,
just a quick note to let you know that the next beer in the 'kater' series (kater 8) will go on tap this coming thursday at happy hour. 'kater 6′ went incredibly fast and i anticipate the same will go for 'kater 8′.
'kater 8′ is a belgian golden strong ale dry hopped with saaz hops. 8.6% abv. $5/12 oz.
In other news…
The follow-up to 'mary magdalene', 'mary's sister" is in bottles and will be available in the not-so distant future. we cracked a bottle a couple of days ago; i'm pretty sure you will love it.
'Meeting of the minds volume 2: oberon" will go on tap next week. this beer was inspired by jordan wambeke's entry into the laramie homebrew club's session ale competition. belgian blond ale, dry hopped with amarillo and citra. 5.0% abv.
Some upcoming projects on the pilot system:

* to be named pumpkin ale (brewed with locally grown pumpkins at ACRE farms)
* "i want you in the morning": strong ale featuring coffee, brown sugar, oats and vanilla.
* session stout
thanks, all.
Jared
Head Pilot Brewer
Hi all,
Just wanted to let you know about a new beer that will go on tap tomorrow (friday) at happy hour…
"ALT Belgium" is a belgian amber ale (5.8% ABV).  this beer is a really nice balance of malt, hop and yeast flavors.  i think you'll really enjoy it; this particular beer is unlike any other belgian beer i've released at Altitude.
I should also mention that this will be the first in a string of many belgian beers to be released in the weeks ahead.  not surprisingly, i came back from belgium this summer with a lot of new techniques and concepts that i wanted to try out and i'm excited for you to try them.
some upcoming releases:
1. "kater 6″ – belgian blond ale
2. "mary's sister" – a slight variation on 'mary magdalene' (750 mL cork and caged bottles only)
3. "kater 8″ – belgian golden strong ale
right. hope to see you tomorrow for the release.
ok,
jared
head pilot brewer